In what ways can we adapt our teaching in times of crisis to exhibit resilience such that the arts we teach inspire and empower students to act, especially in times of stress and crisis, and nurture their right to imagination?  I was part of the Music faculty at the Semester at Sea's Spring 2020 voyage that abruptly ended a month early as a result of COVID-19.  I responded to the loss in experiential learning opportunities as a result of cancellation of the students' field-classes in South Africa by bringing forward my own artistic practice and research at the Canadian Centre for Ethnomusicology under my mentors Prof. Regula B. Qureshi and Prof. Michael A. Frishkopf at UAlberta. I designed a virtual field class, Curating Sound, as we transitioned from a floating to a quarantined classroom. As I write this blog after submitting my final grades, my student Blake emailed,
Thank you for the learning opportunity! I am sad we didn't get the real field class experience in South Africa, but I thought you provided us a unique way to meet that requirement that still allowed us to have our own creative input and experience. Thank you for making the best of this unusual and sometimes challenging situation. I hope you are safe and well.
I embarked on the World Odyssey in San Diego, US on January 1st 2020 as an Ethnomusicology faculty at the Semester at Sea's Spring 2020 voyage. Ethnomusicology is a study of music within its cultural context and focuses on not only the sound of music but more importantly the people and communities for which the sound-making and listening is significant.
The original itinerary included thirteen ports including: Hawaii, Kobe, Japan, Shanghai, China, Saigon, Vietnam, Kuala Lumpur Malaysia, India, Mauritius, Cape Town, South Africa, Tema and Takoradi Ghana, and Casablanca, Morocco, and Netherlands.  However, COVID-19 caused many itinerary changes. In the earlier classes we challenged the conception of the category "music" as a universal category, discussing how religious sounds in certain cultures, for example azaan in the case of Islam, will not be categorized as "music." We also learned musical specificities of the cultures we visited. While students learned about the music of Noh and Kabuki Theatre of Japan, they also recognized sonic gestures, such as believers clapping twice at Shinto temples to evoke kami (spirits).  This cultural learning in the classroom shaped their experiences within the port as they attended music performances and reviewed them for their assignments.
As COVID-19 unfolded, there were several changes in the original itinerary, and each itinerary change distressed the students at a different level. The extended time in Vietnam meant the students learned in detail the connections between Chinese and Vietnamese music as well as the varied ways that Vietnamese string instruments are used across genres. When the students saw the water puppet shows or visited musicians' house in Saigon (Ho Chi Minh), we had an opportunity to hear these musical instruments live from master players as well as ask questions from the culture bearers over a home-prepared meal.
Alongside the sonic specificities of music, we also discussed the history and origins of the music, as in the case of Mauritius, when the voyagers were greeted on land with a performance of the national music and style of sega. The students from the Exploring World Music course recognized that this was the music that had been created by African slaves and indentured workers who built the Mauritian economy during the French and British colonial- and post-colonial periods. Example:
When we were not able to visit certain ports such as Malaysia and India, I adapted my teaching to create new experiential learning opportunities for the students. For example, I brought my harmonium to the class and taught the students the basics of raag and taal and a famous Muslim Sufi qawwali (piece of devotional music),"Chap Tilak," by the poet Amir Khusrow, whose dargah (shrine) is in Delhi. I also brought in my compositions and innovations with Quranic texts in songs such as Alastu bi-rabbikum/Living with Purpose. As a cultural insider and researcher in the music of South Asia, I used my music learning from Ustads, master musicians in Pakistan, and my research to give students a sonic taste of the South Asian music classroom.
I also discussed the soundscapes that I grew up within: a Muslim milieu where I heard call to prayer (azaan ) five times a day. One often does not hear the azaan as a single sonic/melodic line; rather, each mosque located at close distance calls out to prayer with a gap of 30-60 seconds between them. This heterophonic texture of Arabic verses from different mosques reflects both the heterogeneity and the diversity of a Muslim milieu. While I shared this aspect of the Muslim milieu within a presentation on "Islamic Soundscapes" for the voyagers on the World Odyssey, the students of my course stretched the definition of soundscapes to sound-snorkeling, sound-swimming, sound-floating, sound-flying as well as narrativizing sonic memories of childhood.
The turning point in my teaching was when the voyage ended abruptly, two days before we sailed into Cape Town, and all the field-classes were cancelled. What was to follow was a transition from this floating campus, but we did not fully know as yet what realities we were stepping into. The students knew they would be quarantined at home for 14 days but the idea that the whole world would be experiencing a lock-down was still unimaginable. I had been hearing news of such a lockdown in Italy and so when my student from Milano raised his hand and painted the picture of the COVID-19 world for me, I was taken aback for a second. He said:
Professor, my father went out to get some fresh air in the park, and the police came to him, tapped him gently on his shoulders, and asked him to return home. I do not think there will be any music performances I can see or soundwalks I will be able to do in my town.
My response to conducting soundwalks in a quarantined classroom was that the students conduct soundwalks inside and outside their homes and reflect on how these have changed since they have grown up or as a result of COVID-19.
The Canadian composer Hildegard Westerkamp defines a soundwalk as a walk with a focus on listening to the natural or built environment; "It is exposing our ears to every sound around us no matter where we are." Soundscape is a concept popularized by the Canadian composer R. Murray Schaefer, who, in his book Tuning of the World, talks about the acoustic environment in which humans are constantly immersed because unlike "eyelids," humans do not have "ear-lids."
In the quarantined classrooms, the students as well as faculty were in a post-traumatic stress phase as a result of the abrupt disembarkation and scattering of a tightly-knit shipboard community. We made precious memories in the last days, signing each other's maps, hatching eggs to keep each other smiling, and interacting with the staff who had served us for the entire trip.
The students of Soundscapes: Music as Human Practice recorded the natural and built-environments of their neighborhood, reflecting on the relative calm and silence as a result of lessened human activity. They also noted a high volume of sound of news in their house; one student went so far as to record her mother cursing Trump on his speech about COVID-19. Another student reflected on the sounds of the security guards in Mozambique who monitored the lockdown in the city. Many others went down the memory lane to revisit family houses of deceased parents or grandparents.
While students in Exploring World Music did a podcast and a research poster about their musical heritage, a memorable musical encounter from another culture, or a piece of music with which they have indelible memories, what I encountered during this unique experience of teaching during the global pandemic is that no matter what, the student's right to develop their imagination is the key to empowering them to become agents of transformation. What listening offers us is the most visceral, immediate, and intimate doorway into realizing and practicing our humanity during any global crisis.
I was humbled when my student Luca Calderoni wrote that the course had "shaken" him because it made him question the extent to which the power differentials between North and South as a result of colonialism and post-colonialism impact the everyday reality of millions of people. Jason Daniels, one of the most astute critical thinkers in my class, wrote that the course made him question whether people of the South are mere victims of exploitation, and realize the agency of people in developing their own style of music that merged European art music repertoire with their traditions.  Most of all, I was intrigued by the following email from Marbella who wrote from Mexico:
Hello professor, I hope you're doing fine, and that you are safe and healthy! First of all, I want to thank you for your time and patience with us during these difficult times. It has been an honor to take your class, it is definitely one of the most remarkable classes I took during my time abroad and it has shaped me to become the person I am today. I'll be forever grateful! 
Acknowledgements: Deep gratitude to the three academic deans: Gene Gloeckner, Bob Kling and Sue, Scott Marshal the Sea-e-O, the highly effective faculty at the Spring 2020 voyage including Linda Austin, Alissa Arp, Artemis Preeshl, and Scott Denning, and Isobel Bartz as well as my teaching mentor: Ellen Watson at the Centre for Teaching and Learning (Ualberta) and my PhD mentors: Prof. Regula Qureshi, Michael Frishkopf, and Maryam Moshaver for supporting my academic journey.
---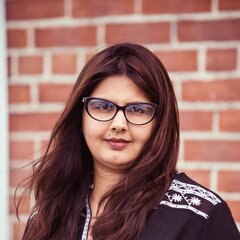 Shumaila Hemani is a PhD in Music from the University of Alberta and an Instructor at the Faculty of Extension, University of Alberta. Her research interests include Sounds of Muslim South Asia from colonial India to Pakistan. She has conducted fieldwork in Pakistan, India, and Tajikistan, and currently working on a book: "Raagi Faqirs at the Edge of Modernity in Contemporary Sindh" about a subaltern group of Sufi singers who sing the tradition of poetry of Shah Abdul Latif Bhitai, the Shah-jo-Raag. Hemani has presented internationally at numerous conferences, including the Society for Ethnomusicology (2009, 2015, 2016, 2017, 2019), International Council of Traditional Music (ICTM) (2015), Canadian Society of Traditional Music (CSTM) (2014), Indian Musicological Society (2014), and has been invited for guest lectures and presentations in France, the US, the UK, and in different parts of Canada. She is a recipient of various international scholarships, honors and awards, including: Laura Bassi Editing Press.