70 - Canadian Society for the History of Medicine (CSHM)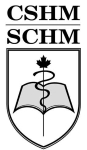 Reflecting the Congress 2023 theme, our theme for this years conference will be "Reckoning and Re-Imagining Health Histories." The current crisis in health care and the inequalities exposed by the pandemic show the urgent need to reckon with medicine and nursing's historic roles in reinforcing disparities and engage with calls to decolonize health care histories. We particularly invite papers that reckon with the segmentation of nursing history/medical history/health history and seek to broaden our reach and re-imagine the direction of our fields.
Program Chair(s)
Dan Malleck, Brock University


Local Arrangement Coordinator(s)
Megan Davies, York University


Membership
For more information, contact the association directly. Please note that conference registration fees are separate from the association's membership fees.