70 - Canadian Society for the History of Medicine (CSHM)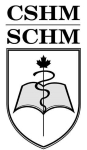 The Canadian Society for the History of Medicine (CSHM) will hold its annual meeting at McGill University (Montreal, QC) in conjunction with the 2024 Congress of the Humanities and Social Sciences. The Program Committee calls for papers on research related to the history of any aspect of medicine and health, broadly conceived. Contributions responding to the Congress theme, "Sustaining shared futures," are particularly welcome. In this context, researchers are invited to reflect on the interdependence between human life and the global measures taken in the fields of medicine and health to respond to the technological, environmental, economic, educational, and social challenges faced by previous generations and which continue to jeopardize our future.
Program Chair(s)
Kim GIrouard, University of Ottawa
Susan Lamb, University of Ottawa

Local Arrangement Coordinator(s)
Mary Yearl, McGill University
Annmarie Adams, McGill University

Membership
For more information, contact the association directly. Please note that conference registration fees are separate from the association's membership fees.