51 - Canadian Society for Renaissance Studies (CSRS)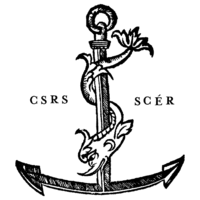 What aspects of the transitional period of the Renaissance seem especially germane to our current moment of transition? The Canadian Society for Renaissance Studies (CSRS) will meet May 12-14 to discuss the early modern period (c. 1400-1700) in relation to the Congress theme, "Transitions." Topics may include race before race; environment and climate; the global Renaissance; early modern contact zones; travel and migration; religious conflict and reconciliation; the public sphere and forms of publicity; the histories of crime and sin, including the regulation or policing of conduct; early modern epistemologies; utopian and dystopian writing; aristocratic privileges and responsibilities; queer sexualities; and the status of women. The CSRS/SCÉR welcomes contributions in the areas of art history, bibliography, book history, cultural studies, digital humanities, history, literature, rhetoric, medicine, music, and philosophy, among others.
Program Chair(s)
Elizabeth Sauer, Brock University
Kenneth Graham, University of Waterloo

Membership
For more information, contact the association directly. Please note that conference registration fees are separate from the association's membership fees.