111 - RhetCanada/Canadian Society for the Study of Rhetoric (RhetCanada/CSSR)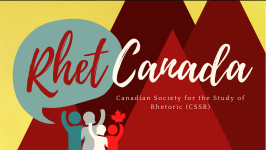 The RhetCanada 2023 conference theme is "Rhetoric, Reckonings, and Re-imaginings," echoing the overall theme of Congress 2023 as well as Congress's focus on issues of social justice, race, and decolonization. Rhetoric is an integral part of reckoning in all its senses, whether it entails producing a more inclusive and honest reckoning of past mistakes and injustices, sparking transformative social action in the present that allows us to reckon constructively with past and current oppression through reconciliation or reparation, or reckoning new courses whose trajectories lead to a better and more just future.
Our conference will feature papers that explore rhetoric's role in all these areas, and will also feature presentations on a broad range of other rhetoric-related topics, including the history of rhetoric, the rhetoric of science, and the rhetoric of public discourse.
RhetCanada 2023 will be held mainly in-person, with some remote presentations.
Program Chair(s)
Bruce Dadey, University of Waterloo


Local Arrangement Coordinator(s)
Bruce Dadey, University of Waterloo


Membership
For more information, contact the association directly. Please note that conference registration fees are separate from the association's membership fees.