34 - Association for Canadian Jewish Studies (ACJS)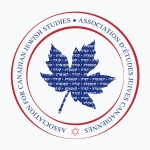 Given the fact that we are coming together in person after a painfully long pause, we thought that "Reunions" would be an apt topic for the conference. The word has a number of potential applications: family members reuniting after time on opposite ends of the ocean; old friends meeting at the landsmannschaften, a gala to mark an important anniversary; or a scholarly conference after a pandemic, among many others. As always, though, we welcome and encourage submissions in English and French on any topic relating to Canada's Jews.
Program Chair(s)
Jesse Toufexis, University of Ottawa


Local Arrangement Coordinator(s)
David Koffman, York University


Membership
For more information, contact the association directly. Please note that conference registration fees are separate from the association's membership fees.