276 - Association canadienne d'études francophones du XIXe siècle (ACÉF XIX)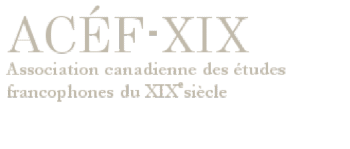 Recontre annuelle de notre association, autour des thèmes touchant au dix-neuvième siècle du monde francophone, établis dans les ateliers de communication.
Program Chair(s)
Elisabeth Gerwin, Université de Lethbridge
Jean-François Richer, Université de Calgary

Membership
For more information, contact the association directly. Please note that conference registration fees are separate from the association's membership fees.