238 - Bibliographical Society of Canada (BSC)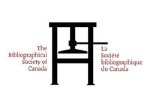 "At the Threshold: Looking Forward, Looking Back"
Canada's bibliographical and book studies community will gather virtually for the Annual Conference of the Bibliographical Society of Canada. In recognizing the 75th anniversary of the Society's founding, our conference theme offers an opportunity to reflect critically on the past, present, and future of bibliographical studies.
The study of books is tied inexorably to the past; we examine the deeply-rooted ways bibliography shapes and reflects the world around it. Yet, our discipline also stands at the threshold of a profoundly uncertain future. Amidst change and transformation, we look ahead to new ways of being and understanding in a mutable world. In so doing, we consider what formative legacies we wish to retain and honour—and which we might usefully move beyond towards the end of building a more vibrant and just world.
This paradox evokes the Roman divinity Janus, god of doorways and boundaries, whose two faces look simultaneously at what is coming and what is past. With this image in mind, we will reflect on bibliographic and book history themes of liminality, memory, historicity, futurity, stability, change—and the interstices between them.
Program Chair(s)
Svetlana Kochkina, McGill University


Membership
For more information, contact the association directly. Please note that conference registration fees are separate from the association's membership fees.