Data — we collect it, analyze it, and use it to govern every aspect of our lives. But what happens when it tells a story about us we didn't write? Who becomes the author? Who retains rights? 
When data becomes currency, who controls the narrative? 
These are the questions at the heart of Indigenous data sovereignty — questions that dismantle colonial architectures of power and ownership. 
Nothing about us without us 
Today Indigenous Knowledge Keepers are reclaiming their stories with a new call to action. 
Under Nothing about us without us, no decision shall be made without the participation and consent of the affected group. This is a response to a system that has long marginalized Indigenous voices. It ensures that their traditions, knowledge, and values are not only respected, but integrated into the decision-making process. 
Dr. Moneca Sinclaire is part of this historic shift.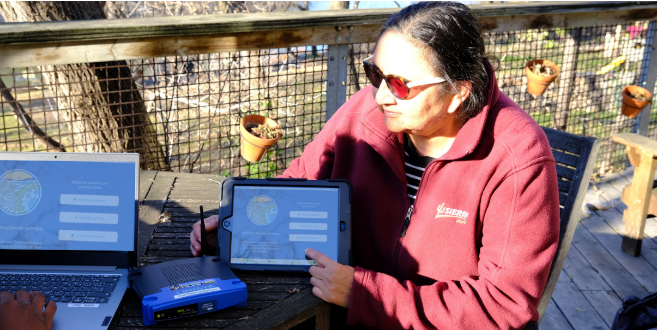 Member of the Opaskwayak Cree Nation and postdoctoral researcher from the University of Manitoba, Dr. Sinclaire is involved in the creation of a novel app called Our Data Indigenous, which helps First Nation communities retain ownership of their own data. 
"Due to past historical events, many of the chiefs and council members have questions about who's going to own the data and what's going to be done with it. A big part of our role is to assure communities that we're trying to do research differently — not from the same Western perspective — but research that is for Indigenous people and by Indigenous people," says Sinclaire. 
The one-of-a-kind app evolved from a research project that aimed to create a data collection tool for First Nation communities disproportionately affected by the COVID-19 pandemic. 
The interdisciplinary research was facilitated by Mitacs which last year awarded two rounds of funding to this Indigenous researcher, making it the most generous offering in the history of the organization. 
Putting lived experience at the forefront 
In an era of digital transformation, research like this illuminates the systemic barriers still faced by under-represented groups. For far too long, oral history has been overshadowed by the concept of a Western archive — a word that comes from "[Greek] archon, the head of state." 
In her canonical essay, performance theorist Rebecca Schneider explains how history is validated by the materiality of record, object, and document. However, this so-called "archival logic" disregards ritual and memory to assert a white-dominated cultural hierarchy. 
But no more. 
Our Data Indigenous puts an end to this historical bias by putting lived experience at the forefront of social innovation. As an outreach coordinator, Dr. Sinclaire explored data through the prism of Indigenous history, adapting the cutting-edge project to address the unique needs and priorities of First Nations, Métis, and Inuit communities. 
She also provided data analysis training based on ownership, control, access, and possession — so that the information collected could be used by Indigenous leaders beyond the pandemic to improve decision-making at a local level. 
The power of collaboration 
The Our Data Indigenous app was originally developed in partnership with Los Angeles-based independent software consultant Craig Dietrich, the Integral Ecology Group (IEG), and Dr. Shanna Lorenz. Dr. Sinclaire credits Mitacs for the success of this collaboration, particularly the role it played in finding the right partner organization. 
"Sometimes when you work with industry, they have their own agenda. With IEG, we have a partner who truly understands that what we're trying to do is create autonomy for people. They really supported our work by asking questions differently, in ways that were in line with what we're trying to do. It was a refreshing departure from what I've been used to throughout my career," she explains. 
Today the app does a lot more than provide COVID-19 relief. 
It collects real-time survey data for a range of community-based initiatives, including language and culture revitalization, land-based learning, and health and well-being. It does all this while helping Indigenous communities make informed decisions and protecting the sovereignty of their data. 
"We still have a lot of communities dealing with flood damage, a lack of running water or high teen suicide rates. Now that we have a tool that allows them to ask, 'What can we do about that?,' it gives me hope that things will begin to change," says Sinclaire.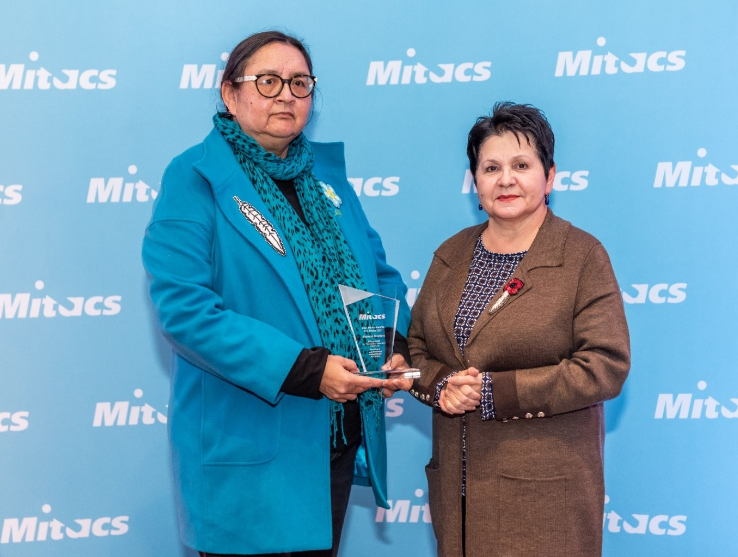 Dr. Sinclaire's insightful contribution earned her a Mitacs Award for Outstanding Innovation — Indigenous. 
Thanks to her unique perspective, Our Data Indigenous is now being used by nine Indigenous communities across Manitoba and British Columbia, as well as in Puerto Rico, and soon in Ecuador. 
As part of an ongoing effort to make innovation more inclusive, Mitacs's Indigenous Pathways initiative provides up to 75% funding for a project done in collaboration with an Indigenous student or partner organization. 
Have an idea for your next big project? Explore new research opportunities in your field while building a shared vision for Canada's future. 
For more information, email indigenous@mitacs.ca.