240 - Canadian Association for Translation Studies (CATS)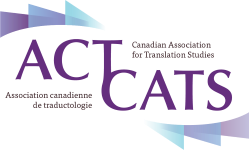 The 35th annual conference of the Canadian Association for Translation Studies will focus on the translation of the social sciences and humanities, examined through the lens of the "universal". Translation in the social sciences and humanities has grown in prominence in recent years, both as a field within Translation Studies and within the disciplines in question (philosophy, anthropology, sociology, literary studies, etc.). This interest may stem from the fact that at some point, all disciplines must be translated, and are keen to examine how this is done. We thus wish to question the "universal" through the practice of translation in the social sciences and humanities, using Translation Studies as a forum to discuss the relationship between different languages and societies. Among the topics discussed are the asymmetrical relationships between languages, the role of translation in the history of ideas and in colonial violence, eurocentrism in Translation Studies, and the question of untranslatability between languages – all of these discussions being closely tied with the theme for Congress 2023: "Reckonings and Re-imaginings".
Program Chair(s)
Patricia Godbout, Université de Sherbrooke
René Lemieux, Université Concordia

Local Arrangement Coordinator(s)
Juna Lilaj, York University


Membership
For more information, contact the association directly. Please note that conference registration fees are separate from the association's membership fees.