Nominé.e.s par les associations savantes membres de la Fédération des sciences humaines, les Prix du mérite des cycles supérieurs du Congrès 2022 récompensent des étudiant.e.s diplômé.e.s exceptionnel.le.s qui présenteront leurs travaux au Congrès des sciences humaines.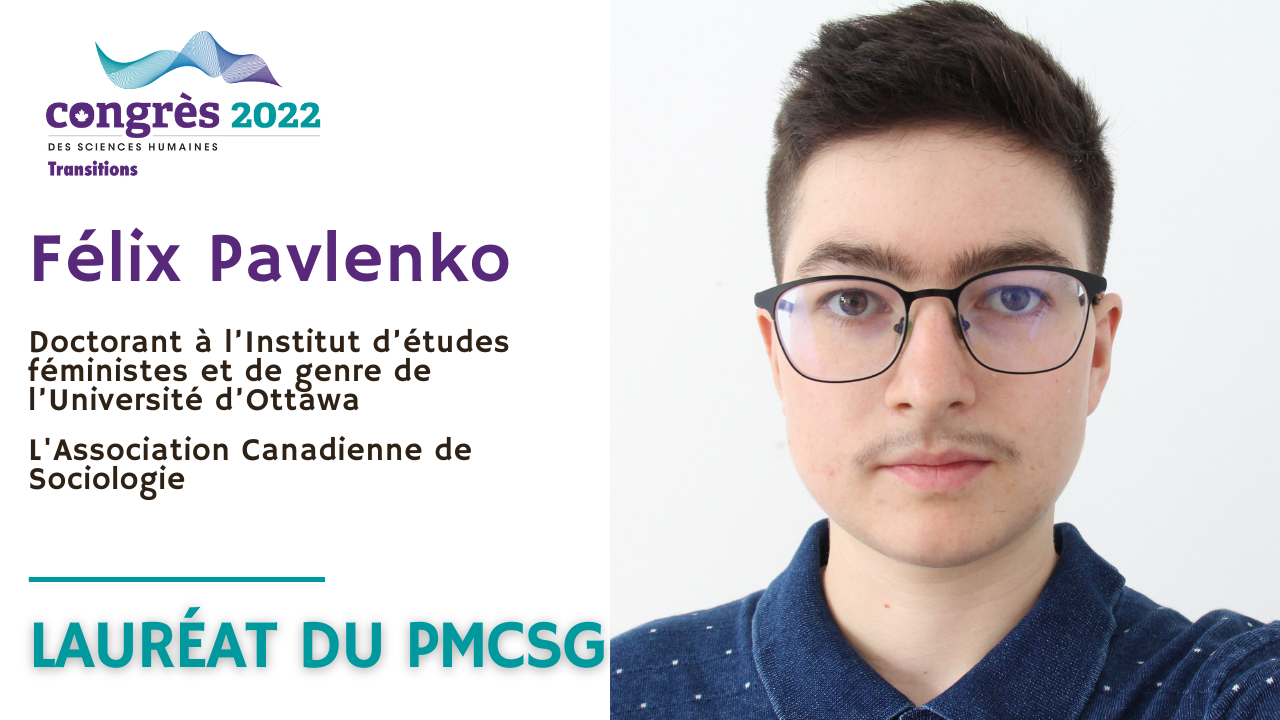 Parlez-nous de vous.
Je suis doctorant à l'Institut d'études féministes et de genre de l'Université d'Ottawa. Je mène mes recherches en études trans et en sociologie du genre et des activités physiques et sportives.   
Je suis membre de l'Association Canadienne de Sociologie (ACS) et de l'Association Canadienne de Communication (ACC).  
À quelle(s) conférence(s) allez-vous participer ou assister? 
Je vais participer à la session en sociologie du sport de l'ACS et à la session sur la médiatisation des personnes trans de l'ACC.  
Quel est le titre de votre présentation au Congrès 2022?  
« "I told my coach that it's over": Disengagement from sport in the lives of trans athletes in France » et « Cis-sensationalisme : Le traitement journalistique des athlètes trans dans la presse française (1977-2020) » 
Comment décririez-vous la recherche que vous présenterez au Congrès 2022?
Je m'intéresse aux conditions de pratique du sport par les personnes trans, au militantisme trans et aux discours institutionnels produits sur les personnes trans. Je me pose les questions suivantes : Quelles sont les expériences concrètes des personnes trans quand elles pratiquent du sport ou des activités physiques ? Quels sont les obstacles qu'elles peuvent vivres ? Quel est l'impact des discours institutionnels et médiatiques sur les athlètes trans ? Quelles stratégies les personnes trans mettent-elles en place collectivement et individuellement pour améliorer leurs conditions de pratique du sport et donc leurs conditions de vie en général ?  
Comment la recherche que vous présenterez s'inscrit-elle dans le thème du Congrès 2022, Transitions?
Mes recherches se situent dans le champ des études trans. Cette discipline explore les effets des transitions de genre sur la société et particulièrement les discriminations que vivent les personnes trans et non-binaires dans différents contextes.  
Partagez vos attentes concernant le Congrès 2022.
J'ai hâte d'écouter les communications des participant·es au congrès pour en apprendre davantage sur différents domaines de recherches.