297 - Canadian Association for Food Studies (CAFS)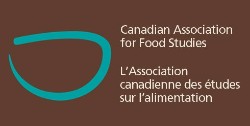 The theme for the 2022 CAFS conference is Transitions to Just and Sustainable Food Systems. In these uncommon times, familiar patterns of socio-ecological and economic injustice nonetheless persist—and worsen. Rather than being cynical of the phrase 'build back better', we instead invite motivated contributors to seize our collective historical moment. We are particularly interested in hearing from groups underrepresented in academic spaces, including Black, Indigenous, and People of Colour, LGBTQ2S+, first generation scholars, community members, and others.
Program Chair(s)
Jennifer Marshman, Waterloo University
Michael Classens, University of Toronto

Local Arrangement Coordinator(s)
Andrea Yovorsky, University of Toronto
Tarran Maharaj, Carleton University

Membership
For more information, contact the association directly. Please note that conference registration fees are separate from the association's membership fees.