105 - Canadian Communication Association (CCA)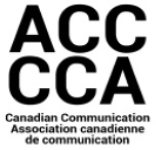 The Canadian Communication Association is pleased to invite proposals for participation in its 2023 Annual Conference, to be held from May 30th to June 2nd, 2023 as part of the Congress of the Canadian Federation for the Humanities and Social Sciences (CFHSS). We call for papers that explore and extend this year's Congress theme — Reckonings & Re- Imaginings — and/or contribute to communications, media-culture and digital technology scholarship in Canada, and internationally.
Program Chair(s)
Faiza Hirji


Local Arrangement Coordinator(s)
Anne MacLennan


Membership
For more information, contact the association directly. Please note that conference registration fees are separate from the association's membership fees.