Whether your interests lie in history, literature, politics, education, sociology, or film, there is something for you at Congress! Be sure to check out the popular Big Thinking and Career Corner series, and the open programming organized by York University.
Open programming can be accessed by all attendees, regardless of registration category. 
Big Thinking 
The Big Thinking series features leading scholars and public figures who present forward-thinking research, revolutionary ideas, and solutions to the critical questions and issues of our time.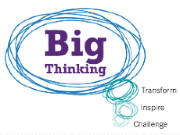 Career Corner 
Everyone from graduate students to established scholars can benefit from attending Career Corner, our professional development workshop series. Led by industry experts, these workshops include a range of topics, from publishing and communicating research, to advancing academic careers and discovering career options outside of academia. 

This series is sponsored by University Affairs.