Whether your interests lie in history, literature, politics, education, sociology, or film, there is something for you at Congress! Attend open programming to connect with your colleagues, learn about a new discipline, find inspiration from a keynote address, and engage in critical conversations around equity, diversity, inclusion, and decolonization.  
Open programming can be accessed by all attendees, regardless of registration category. 
Browse the calendar of open events to find a session, and scroll on to learn more about our signature open programming streams. 
Big Thinking 
The Big Thinking series features leading scholars and public figures who present forward-thinking research, revolutionary ideas, and solutions to the critical questions and issues of our time. Congress 2022 program will be guided by the Transitions theme and building a more diverse, sustainable, democratic, and just future.  
Broad themes for each event are:
Building a more just future
Indigenous language revitalization
Post-pandemic futures
Just transition and the climate crisis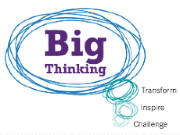 Save the dates:
Thursday, May 12: 12:00 to 13:00 EST
Friday, May 13: 12:00 to 13:00 EST
Monday, May 16: 12:00 to 13:00 EST
Thursday, May 19: 12:00 to 13:00 EST
More information on the Big Thinking page.
Career Corner 
Everyone from graduate students to established scholars can benefit from attending Career Corner, our professional development workshop series. Led by industry experts, these workshops include a range of topics, from publishing and communicating research, to advancing academic careers and discovering career options outside of academia. 

This series is sponsored by University Affairs.

Visit the Career Corner page.