Make the most of Congress: attend open events 
Browse the calendar, filter by series, language or host organization, search by keyword or date.
The views and opinions expressed by speakers at the Congress of the Humanities and Social Sciences are their own, and do not reflect those of the Federation, event sponsors or partners.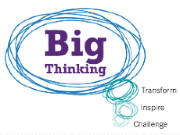 The Big Thinking series is held throughout Congress and brings together leading scholars and public figures who present forward-thinking research, ideas and solutions to the critical questions and issues of our time. The series is open to all Congress registered attendees and to members of the general public registering with a community pass.
Career Corner is a professional development workshop series where everyone from graduate students to established faculty members can learn how to publish and market their research, improve their lesson planning and teaching skills and find out about careers outside of academia. This series is sponsored by University Affairs. 
There are no upcoming events.